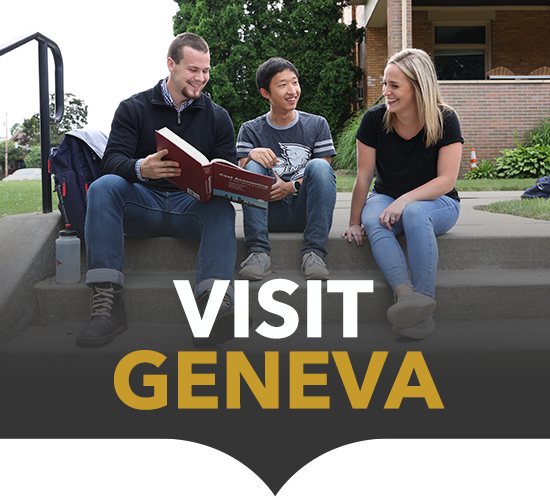 Campus Visit Events
Discover the warm and caring community of Geneva College
Attending one of our Open House events is a great way to learn more about the college and connect with the some really great people!
Our Open House events provide a glimpse into life at Geneva College, helping you picture yourself as a future student on our campus. During any Open House event you will hear from various campus leaders who will help you understand how Geneva delivers a Christ-centered education that prepares you for your calling and career. You will also see our campus, hear about life as a Geneva College student, both in and out of the classroom. We'll cover the admissions process and share information about scholarships and other kinds of financial aid available.
Fridays @ Geneva 
Fridays @ Geneva occur regularly and are a great opportunity for you to get both an overview of Geneva and have personal connection with important individuals on campus. Basically, it's an open house and a personal visit wrapped up in one!

Fridays @ Geneva runs from 9:30 a.m. - 12:30 p.m. on select Fridays throughout the entire year.
Open Houses
Open Houses are held seasonally. Arrival & check-in typically begins at 9:30 a.m. and concludes no later than 3 p.m. The day is filled with a variety of events and speakers and a sample schedule includes: 
Welcome Remarks from the President
Campus Tour
Class Experience
Connect with Faculty
Meet Athletic Coaches
Insights to  the Admissions & Financial Aid Process
Interact with Current Students
Upcoming Campus Visit Events
---