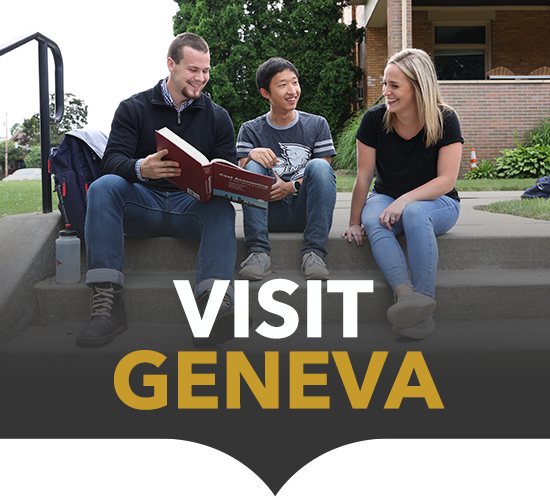 We are excited to welcome you to our beautiful campus for a visit!
Visiting our campus is a great way to get to know Geneva College better. We offer two types visits that provide a very personal look into life at Geneva.
Personal Visits
Personal visits allow you to pick the day and time that best suits you. These visits can happen Monday through Thursday, with different times to select from to begin your visit. While you are here, your visit can include a tour of the campus and a meeting with an Admissions Counselor, a meeting with faculty and/or a coach (subject to availability). Indicate your preferences when you schedule your visit and we'll do our best to fulfill all of your requests!
 
Fridays @ Geneva
Visiting campus on one of our Fridays @ Geneva is a great opportunity for you to get both an overview of Geneva and have personal connection with important individuals on campus while you're here. It's an open house and a personal visit wrapped up in one!  Most Fridays offer two sessions. This event runs from 9:30 a.m. - 12:30 p.m. with check in opening at 9:15 a.m. While you are on campus, you will receive helpful information about the college, tour the campus, interact with students and faculty, meet your admissions counselor and enjoy lunch on us!

No matter which way you decide to visit us, we are confident that you will have a great experience and leave with a full understanding of the experience you will have when you enroll and become a member of the Geneva College community!

Pick your day and time and register for your visit. We can't wait to see you on campus!